Due to exceptionally high volume, please be aware that the current processing time for uniform orders may be up to 3 business days from the date we receive your form. If you wish to inquire about your order AND it has been longer than 3 business days since it was delivered, please do not call us directly. Please email us with all of the following information along with this order form:



Your Name
Your Phone Number
Your Department
If your billing your department using your clothing allowance, please include that in the email.
A Copy of the Order Form Sent in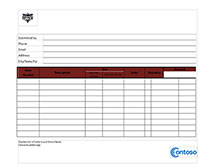 Please email us at uniforms@toppackdefense.com with the filled out form attached.
Pricing
Hemming: $14.00
Patch Removal: $5.00
Patch Install (items not purchased at Top Pack Defense): $5.00
Please note there will be no discounts added to any clothing items.

Please note - as soon as your order is ready, we will contact you by phone or email. Some orders may have items that are backordered. We will respond to your initial order with the ETA for that product, although it does not guarantee we will have possession of it at that time.